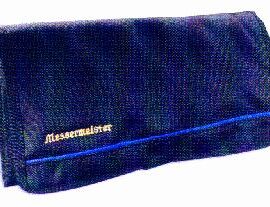 Messermeister 1066-E Garnishing Roll Soft 10 pocket, empty
Quality Messermeister 1066-E garnishing roll, soft type, from Messermeister in Solingen, Germany. This empty garnishing roll is available in black only. It has 10 pockets. A velcro strap holds it closed. Durable polyester fabric with PVC backing. Zipper closure around the outside so garnishing tools cannot fall out.
$

24.50
Add to cart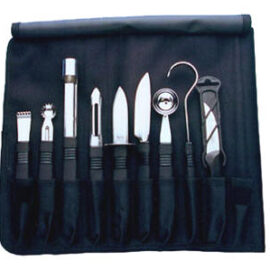 Messermeister 1066-J Garnishing Kit
Messermeister garnishing kit in a black canvas roll. Contains nine garnishing tools: a zester, tomato corer, apple corer, vegetable peeler, oyster knife, fruit decorator (also called a melon decorator), melon baller, butter curler (also called a chocolate curler) and a bird's beak peeling knife. The bag has an additional slot for one more item.
$

85.00
Read more
Victorinox (Forschner) 46550 Garnishing Kit 6 Piece
The Forschner six piece garnishing kit comes in a black canvas roll and contains vegetable peeler, decorating knife, fruit decorator (also called a melon decorator), channel knife, melon baller, and lemon zester. All the stainless steel garnishing tools have black Fibrox handles.
$

93.25
Add to cart