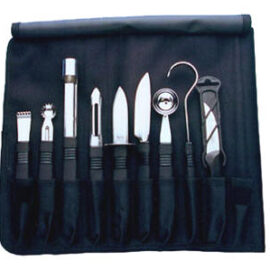 Messermeister 1066-J Garnishing Kit
Messermeister garnishing kit in a black canvas roll. Contains nine garnishing tools: a zester, tomato corer, apple corer, vegetable peeler, oyster knife, fruit decorator (also called a melon decorator), melon baller, butter curler (also called a chocolate curler) and a bird's beak peeling knife. The bag has an additional slot for one more item.
$

85.00
Read more

Messermeister 900-56 Melon Decorator
This melon decorator is great for all your gourmet presentations. It is also excellent at Halloween for your pumpkins! A wonderful tool to be creative with. Made for Messermeister in Seki, Japan. This kitchen tool is part of the Culinary Instruments Series, with traditional handles. The metal head measures 3-3/4″ long, and the tool is 8″ in overall length.
$

8.95
Read more
Victorinox (Forschner) 46550 Garnishing Kit 6 Piece
The Forschner six piece garnishing kit comes in a black canvas roll and contains vegetable peeler, decorating knife, fruit decorator (also called a melon decorator), channel knife, melon baller, and lemon zester. All the stainless steel garnishing tools have black Fibrox handles.
$

93.25
Add to cart