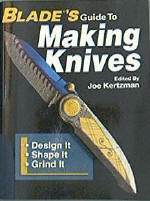 Blades Guide to Making Knives edited by Kertzman (BK141)
Blades Guide to Making Knives (BK141) is a book of articles by respected knifemakers with professional tips for grinding blades, crafting hunting and folding knives, and forging steel into intricate designs. Features detailed instructions and 250 striking color illustrations. Edited by Joe Kertzman This is an excellent resource for picking up secrets of the trade. Novices can grasp basic concepts of knifemaking.
Books are non-returnable. Heimerdinger Cutlery suggests that this is a very interesting book, but perhaps not the best book for a beginner.
$

27.25
Add to cart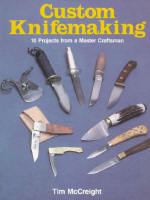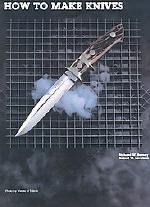 How To Make Knives by Barney and Loveless (BK24)
Called "the bible of knife-making", and a best seller, How To Make Knives by Richard Barney and Robert W. Loveless is an instruction book for knife-making. Complete instructions on making high quality hand-made knives. Forging and stock removal, mirror polishing, sheath making, safety techniques, required tools, supplies and more. Softcover, 182 pages, 448 black and white photos.
Books are non-returnable.
$

14.99
Add to cart