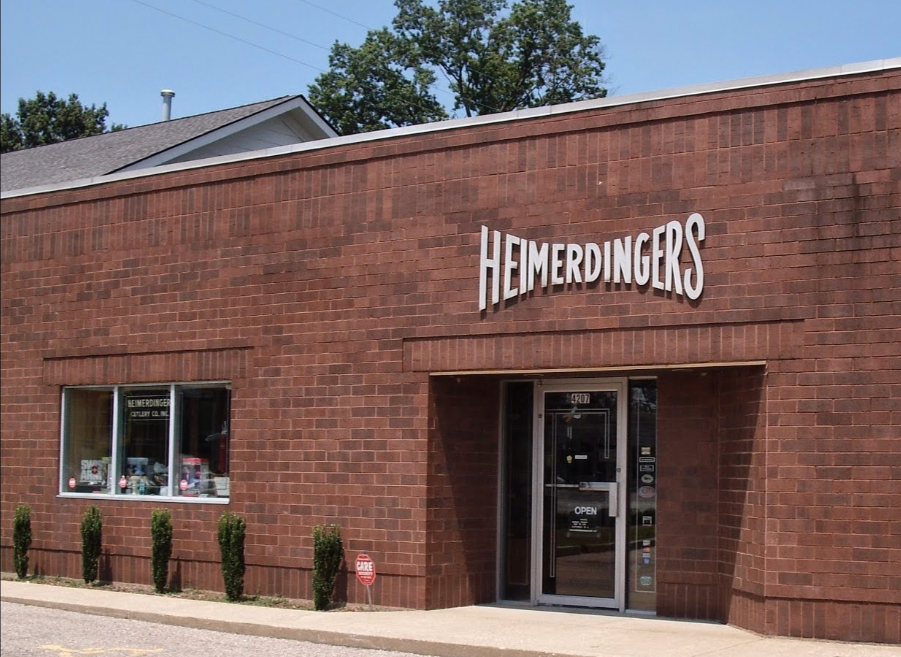 Short History of Heimerdinger Cutlery by Carl Heimerdinger
The Heimerdinger family started their business around 1861 in downtown Louisville, Kentucky. My great, great-grandfather, August Heimerdinger, who was born in Germany, made all types of scissors and butcher knives in his store at 110 Jefferson Street, and also repaired sewing machines.W.C. Heimerdinger took over the business upon his father's death, and added a full line of butcher supplies. He branched out into barber and beauty supplies during the 1920's. My grandfather, W.G. Heimerdinger, took over the business around 1920. In 1922, he discontinued the scissor manufacturing in favor of grass shears and incorporated the business. W.G. had the original patent on grass shears. Along with grass shears, he manufactured pruning shears, hedge shears, mule and sheep shears. After all this, W.G. decided to start another division of Heimerdinger and moved into hardware. One of W.G.'s sons, my father Henry W. Heimerdinger, entered the business in 1947. The manufacturing part of the business ended in the mid 1950's, although we still re-manufacture and sharpen scissors, knives, and many other types of edged tools. The hardware part of the business ended during the mid 1960's.Throughout our history, the business has always sold many types of scissors as well as kitchen and pocket knives.
My father felt the continuation of this family specialization in cutlery was so important that he spun a separate company off of W.C. Heimerdinger in 1969, forming Heimerdinger Cutlery Inc. My mother Betty worked hard with my father to build up the business.In 1983, Heimerdinger Cutlery moved from downtown Louisville out to the suburbs in St. Matthews. My father retired in 1991, and I became the fifth generation to take over the business. In 1993, my wife Glenna Fahle joined the company as Vice President. We still carry the full line of kitchen cutlery, as well as many specialty items such as magnifying glasses, manicure sets, Felco pruning shears, scissors, traight razors and safety razors, shaving creams and lotions, and a variety of barber supplies. We started a mail-order division in 1993.
On October 1, 1996, we celebrated our 135th anniversary of Family Business Tradition by having a "Hanging of the Shears" Day. This 6 foot long, 70 pound working shears, now on display in our store, was manufactured by the J.A. Henckels Company for special occasions such as the Worlds Fair or other exhibitions. Our Web site, www.heimerdingercutlery.com, was activated in 1998. Our on-line sales store was activated in July, 2003. We have been a family business since 1861, celebrating our 152nd year this year.
Carl's favorite business-related quips are:
"Knives of our Lives"
"Leave It To Cleaver"
"Where the Sharp Things Are"
"The Slice is Right"
"I'm the C.E.O. – the 'Chief Everything Officer'"