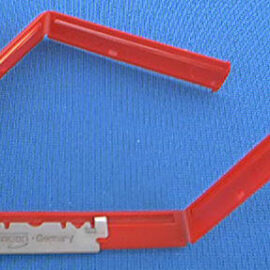 Dovo 201-003 Clear Shavette Adaptor Sleeve
This Clear Shavette Adaptor Sleeve (Formally Red) holds the 1-3/4″ blade for the Dovo Shavette, a disposable blade straight razor. The Shavette #Dov201-081RD automatically comes with a clear sleeve. This formally red sleeve ONLY holds the short 1-3/4″ disposable blade. (The cutting edge of the blade measures 1-1/2″.) The removable clear plastic sleeve, which firmly holds the short razor blade, slides into the aluminum shank of the Shavette. Imported directly from Solingen, Germany.
PLEASE NOTE:  DOVO IS NO LONGER SHIPPING THE RED ADAPTOR SLEEVES FOR THE SHAVETTE.  THEY ARE NOW SHIPPING A CLEAR, SEMI-OPAQUE MODEL.
$

2.95
Add to cart