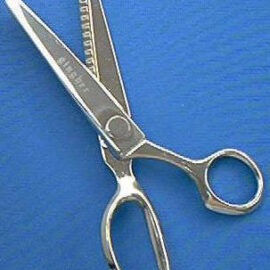 Gingher G-7P Pinking Shears 7-1/2″
These Gingher 7-1/2″ Pinking Shears make a ravel-resistant zigzag cut on fabric seams and also create a distinctive edge for crafts. Cutting only one layer of material at a time will help maintain the original hand-tuned setting of the blades. Frequently cleaning the lint off of the blades will maximize their effectiveness.
$

55.99
Add to cart
Wiss CB9 Pinking Shears 9″
NO LONGER AVAILABLE
These Wiss 9″ Pinking Shears have extra large teeth and are suitable for both light and heavy materials. The bearing pivot reduces friction and finger fatigue which makes cutting easier. These pinking shears are hot drop forged from solid steel with nickel-plated blades and black enameled handles. They have an overall length of 9″.
$

53.50
Read more