Catskill 0111 Original Butcher Block Oil
Catskill Linseed Oil for use with wood cutting boards, wood chopping blocks, wood butcher block tables, wooden salad bowls, wooden knife storage blocks and kitchen woodenware. The bottle is labeled "Catskill Original Butcher Block Oil." The label on the bottle says that "Clear, odorless, tasteless mineral oil is an FDA/USDA approved product that prevents wood products from drying out and helps seal out moisture, stains and odors. The perfect food-grade conditioner for natural kitchen woodenware. Also great for soapstone countertops" Net weight 8 fluid ounces.
$

8.50
Add to cart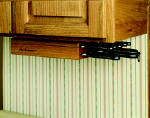 Wusthof 2301-8001 Swinger Knife Block 9 Slot
The WÜSTHOF Swinger Under-Cabinet Knife Storage Block is made of solid oak. It swings with the touch of a finger, and keeps knives within easy reach. This block takes no counter space. Magnetic strips hold the knives securely. 9 slots hold up to 8 knives plus sharpening steel.
$

59.95
Add to cart