Utility shears for cutting food and packaging.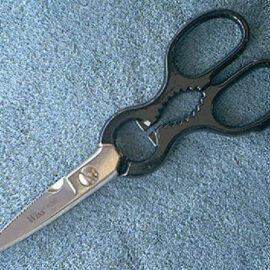 Wiss KSRN Kitchen Scissors SS
Wiss KSRN forged kitchen shears are stainless steel with baked enamel handles. They have a bone/flower cutting notch. One blade has a serrated edge for gripping the material better. The total length is 8″ and the blade length is 2-1/4″. These kitchen shears are for preparing food, cracking nuts, opening jars, and cutting a wide variety of materials including flowers, twine, rope, cardboard, light metal, and wire screens. Made in Italy.
$

39.99
Add to cart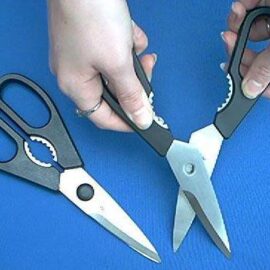 Wusthof 5558 Kitchen Scissors SS
These come-apart 8″ Wusthof kitchen scissors have a flat style that fits well in the Wüsthof knife block. These shears have black plastic handles and stainless steel blades with an integral jar-top opener. They come apart for easy cleaning, and are handy for general household use as well as in the kitchen. Their total length is 8″, and the blade length is 3-1/2″. Wusthof manufactures quality knives, scissors, shears, and other cutlery in Solingen, Germany.
$

24.95
Add to cart