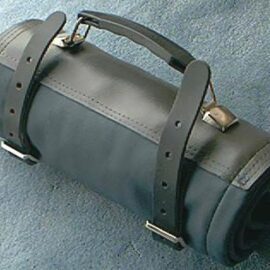 Hickory Hill AC-35 Knife Roll Deluxe 60 piece
This item is on back-order at this time and is unavailable.  Please check back at a later time.
Deluxe Knife Roll #AC-35 will hold 60 pocket knives. Made of furniture-grade vinyl with leather tie straps, a heavy cloth lining, and a sturdy handle for easy carrying. Overall measurements when open are 11-1/2″ x 39-1/2″. The area that holds the knives measures 10″ x 33″. Two flaps cover the knives before the protector is rolled up. When it is loosely rolled up empty, it measures 11-1/2″ x about 5″ in diameter. Made by Hickory Hills in the U.S.A.
$

53.50
Read more