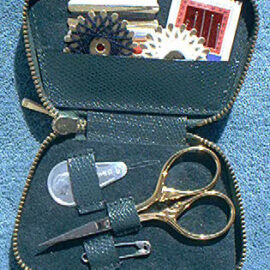 Dovo 544-041 Deluxe Blue Sewing Set
This deluxe Dovo Sewing Set includes one pair of 3-1/2″ gold-handled embroidery scissors, five fine sewing needles, one needle threader, three cardboard bobbins of thread (white thread, black thread, and a selection of white, black, gray, red, green, and yellow), and a blue leather case to store and protect the set. It is imported directly from Solingen, Germany.
PLEASE NOTE: PLEASE EXAMINE YOUR SHOPPING CART CAREFULLY, AS OUR STOCK IS VERY LOW ON ALL DOVO ITEMS. THE WEBSITE SAYS IN-STOCK IN ORDER TO ALLOW PEOPLE TO PRE-ORDER ITEMS. YOUR CARD WILL BE CHARGED EVEN IF WE ARE OUT OF THESE ITEMS.
Initials may be etched onto the blades. We have only one type face and size available. Please list etching instructions in the message box under "Add Gift Options" in the Shipping Method step during checkout.
$

91.75
Read more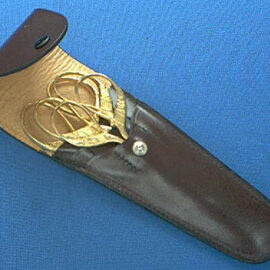 Wasa 4074-973 Set of Three Gold Scissors Cornucopia Pattern
This Wasa Sewing Set has three scissors with decorative cornucopia gold-plated handles and nickel-plated blades. The 3-1/2″ embroidery scissors have fine points for close and accurate work.The scissors are stored and protected in a brown, genuine leather fitted sheath. This set comes in a gift box. It is imported directly from Solingen, Germany.
$

175.99
Add to cart